Founded back in 1741, Marca Corona is the oldest ceramic company in the Sassuolo district, a landmark in the history of ceramics with its Galleria Marca Corona established as a company museum to collect and conserve a spirit of the territory that is an integral part of the success of Sassuolo ceramics, making it the heir and continuation of a unique history not only in the district, but also in Italy and the world.
The aim of this ambitious project is to offer the community, scholars and enthusiasts a precious testimony of the historical heritage of Sassuolo ceramic manufacturing, which has always been a source of inspiration for our ceramic production.
In the pursuit of this particular focus on Italian tradition and culture, Marca Corona chooses contemporary art as the interpreter of the future, a future that passes through the enhancement of talent and people according to a company with over two centuries of history.
The first stop on this exciting journey features Nel Blu Dipinto, the exhibition by Giuseppe Stampone curated by Rosa Cascone on a project by R&P Contemporary Art for Marca Corona, with the sponsorship of the Municipality of Sassuolo.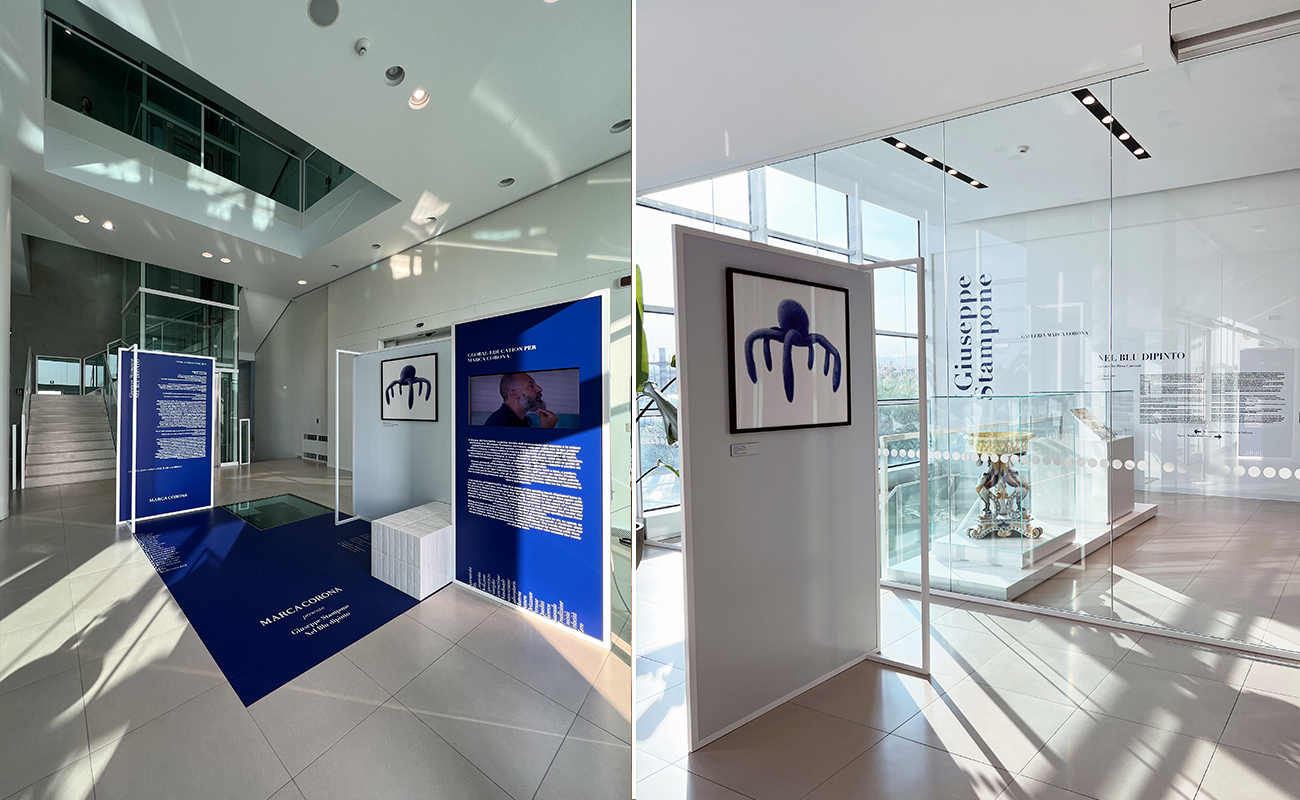 The exhibition by Giuseppe Stampone "Nel Blu Dipinto"
Stampone's artistic production ranges from multimedia installations to paintings inspired by black and white photographs.
The political and social themes addressed by the artist speak to the contemporary world, through the myths of our time: icons that we recognise, often flanked by others that instead belong to our personal artistic and cultural background.
For Marca Corona, Stampone decided to exhibit some of his most famous works and create an unprecedented installation that is part of his project called  Global Education: a large spelling book composed of 21 tables and 21 images, through which the story of the Marca Corona company unfolds.
The spelling book on display is the result of a moment of reality, sharing and connection. Applying the practice developed by the Master himself, the employees of Marca Corona gathered in one classroom and, under the guidance of Giuseppe Stampone, chose and created their own spelling book from an experience of collective discussion.
The exhibition is completed by a series of works that Giuseppe Stampone has created in recent years observing and representing the surrounding reality.
Images of landscapes alternate with complex, layered works in closed places, both of which find their fulfilment over time. Stampone's drawings explores themes such as immigration, politics, power games and subjugation.
The exhibition will be open from 21 October 2022 to 31 January 2023 at the Galleria Marca Corona in via Emilia Romagna, 7 – Sassuolo (MO).